Vegito Blue Vs Jiren Might Happen, Kefura Potara Fusion Confirmed!
Hi guys I'm back with another blog and in this blog we are going to talk about whether Vegito Blue Vs Jiren might happen or not in the future episodes; so, let's start without any more delaya.
Preview:
https://youtu.be/nxdNmaIj_8Y
In the preview of Dragon Ball Super episode 114, Kale controlled her true power and became a true Legendary Super Saiyan, Then Kale and Caulifla initiate there secret plan which we all know is the fusion technique taught by their God of destruction Champa and it will give birth to a new Super Warrior Kefura/Kafla.
How Vegito Blue Vs Jiren Is Possible ?
Preview of episode 114 has confirmed that Kale and Caulifla has Potara Earrings which they will use for the fusion after getting a signal from Champa and if somehow Goku and Vegeta manage to get the earrings from them, it increases this chances of us seeing Vegito Blue Vs Jiren.
Moreover, one fusion is already gonna happen so I think Toei Animation won't have a problem bringing another fusion and this is also fans favorite one (Vegito Blue), In the present condition there is a fairly good chance that Vegito Blue might fight against Jiren, Vegeta and Goku are still in the arena and they also have Kefura's Potara Earrings; this leads to one conclusion – Vegito Blue. and this also proves that the potara fusion is not against the rules as long as Zeno sama found it neat; so there will be no question of disqualification or getting immediately destroyed.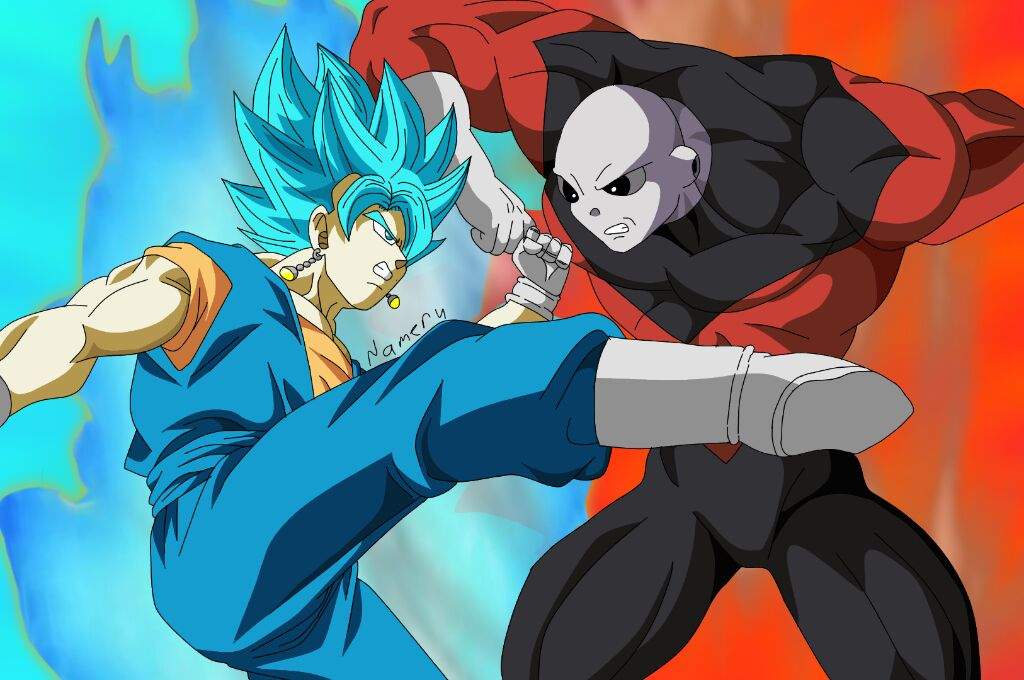 Moreover, thinking how strong Jiren is, even a god of destruction can't defeat him and I don't thing Goku can beat him alone even with Ultra Instinct, and as Whis revealed in today's episode that Ultra Instinct is a tough form to achieve even for a God and Goku is just a mortal who transformed only once. So now, the Fusion  is the only thing that can give him enough power to Beat Jiren. And, Even after seeing Goku getting beaten badly even after transforming into Kaioken x 20; Vegeta still dared to go to fight Jiren. However, he got interrupted by the second fiddle, Toppo.
There might be some chances that Vegeta will unlock the Ultra Instinct form as well; This can result in a Vegito – Ultra Instinct; Well, seeing how Universal Survival Arc is going, at this point anything is possible and no one can actually tell what might happen next.
That's All For Today Thanks For Reading.
Like us on Facebook for more: OtakuVerse