17 Mind-Blowing Ken Kaneki Facts You Should Know!
What's y'all doing guys? Today, I'm here with some great Ken Kaneki Facts from from Tokyo Ghoul! And I'm sure some of them will blow up your mind!
He is my personal favorite Anime Character and also of many others. Here's a short info about him!
Ken Kaneki is the main protagonist of Tokyo Ghoul and Tokyo Ghoul:re. Formerly, he was a human studying Japanese Literature at Kamii University, living a relatively normal life. However, this soon changed after Rize Kamishiro's kakuhou was transplanted into him, transforming him into a one-eyed ghoul. After joining Anteiku as a part-time waiter, he learned how to live as a ghoul and eventually became known as Eyepatch.
Alright, now let's start the facts!
---
1. Kaneki has a habit of touching his chin with his left hand when he is hiding something. Even after his memory loss, this habit still remained under the name 'Sasaki'. This fact was first mentioned by Hide.
After closely examining this, we note that Kaneki has lied a lot of times, for instance, when he left Anteiku, when he talked about his mother (you'll know later why!), when he said he was happy working at the CCG and not knowing anything…
2. The sudden whitening of Kaneki's hair caused by torture is a condition known as Marie Antoinette Syndrome. It was named after the last queen of France, Marie Antoinette, whose hair turned white during the imprisonment prior to her execution.
3. Kaneki has 16 different names/aliases.
These include: Ken Kaneki, Haise Sasaki, Eyepatch, Centipede, One-Eyed Ghoul, Kakuja's Egg, Shironeki, Kuroneki, Akaneki, Number 240, Black Reaper, Sassan, Maman, Sasako, Sasaki the Sasarious, and The One-Eyed King.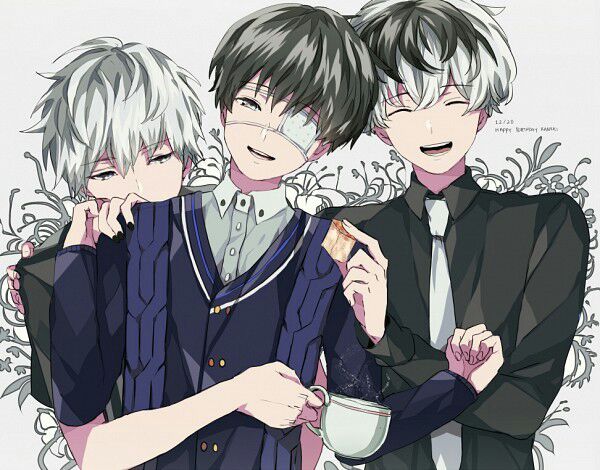 4. In the first character popularity poll, Kaneki was ranked first. In the latest, he was second while Haise Sasaki came third.
Continued on Next Page ….