Goku Can't Wish Back The Destroyed Universes – Tournament of Power!
Howdy Everyone, I'm here with an unconfirmed-but-possible theory. More than half of the time is over in Tournament of Power, Most of the unwanted warriors are already eliminated. However, The 'hidden warriors' from Universe 4 are still nowhere to be found and it is said that they have an ability to faint their Ki and become invisible. The Prince of all Saiyans, Vegeta is still the real MVP with the most eliminations (6) followed by Frieza (5), Goku (3) and Master Roshi (3). As It was already revealed in the very beginning that the last-one-standing will get a wish from Super Dragon Balls. However, it isn't possible for any mortal to get a wish through Super Dragon Balls, Why? Because, They need to know Language of Gods in order to wish through the Super Dragon Balls and I guess, no one on the stage knows it.
Lets say any angel will help in translating the wish, but as we all know that Zeno-sama was about to destroy all 8 Universes and Goku unintentionally persuaded Zeno not-do-destroy the universes and give them a chance to show the true worth of them through a battle. And, the decision was made – "The Winning Universe will get refrain from getting destroyed and the loosing ones will get immediately destroyed"; Then, Grand Priest came up with rules following the Survival of only-one Universe.
We are still not sure that Universe 7 will manage to win or not. But even if they win and Goku try to wish back all his competitors and the Universes which were destroyed by Zeno-sama during Tournament of Power, but Zeno or the Grand Priest won't allow such a thing as the wish is violating the original plans of Zeno sama. Goku won't be able to make a wish as the language of gods is a prohibited language across mortals and only Gods are allowed to speak/talk in it.
It's possible that the dead fighters of the fallen universes and other living things will be revived and transported to live in U7, but the universes themselves not get brought back. And, soon the Kaio-shin of our Universe will create planets so that the ones from other Universe can stay in Universe 7. Zeno-sama's childish nature is the reason that will make him approve of such a decision.
One more question that raise into our heads is who will be the god of destruction/creation of the new created universe? Well, Of course it would be Beerus but if some gods stand against it, then there are possibilities that we might see a fight between Gods of Destruction as it was included in the manga. Such an important fight can't be ignored that easily.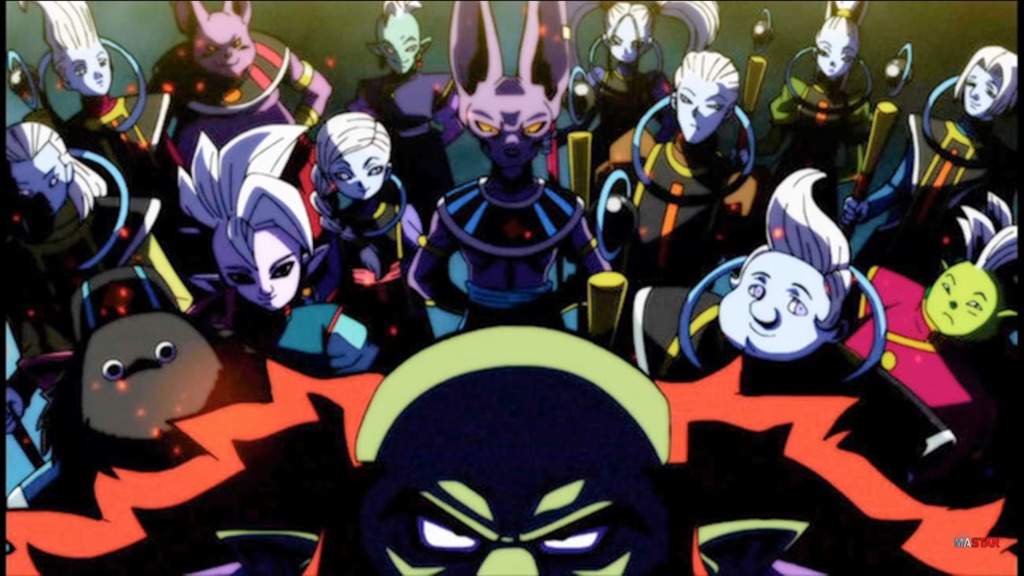 The Joined Universes could result in a lot more arcs, Planet Sadal coming to that Universe and Vegeta visiting that Universe; Grand Priest visiting earth; More Unknown/Strong Villains might appear; UUB arc and a lot more.
Fans would rise up against the show if any of the character from Universe 6 and even Universe 11 were doubtlessly eliminated, so the event will have to atone. If the Tournament of Power ends in merging all the universes together with the last-one-standing leading the charge, then the show will indeed set some great amount of sagas to come in the show.
Well from the very beginning, I'm Pretty sure Akira Toriyama realized that wishing back the universes is the most expected thing fans will ever think of. And, that is the main reason why he will make Zeno forbid it or the things that are destroyed by him can't be wished back, because Akira Toriyama never left a single chance to leave us amazed.
Well, that's all for today, let me know if you are convinced with my theory in the comment section. Thanks for Reading.
Dragon Ball Super's 'Universal Survival' saga is part of the recent simulcast agreement that sites like Crunchyroll and FUNimation have scored. Dragon Ball Super airs on Crunchyroll Saturdays at 7:15 pm. CST. Toonami airs the English dub on Adult Swim Saturdays at 11:30 pm.
Like us on Facebook for more: OtakuVerse