Boruto Episode 15 Review and Episode 16-19 Spoilers!
The Dark Chakra Arc just ended in Boruto Episode 14 with a lot questions in our Mind. Like, What are the true Ability of Boruto's Eyes? What is Mitsuki's Origin (Whole Story) and Many other questions.
Well, I guess Everyone here already watched Episode 15 of Boruto: Naruto Next Generations.
https://youtu.be/2gzMDpU-2PQ
If people think it was just a filler then they are absolutely wrong! This Episode was not a filler, It brought Sasuke back. There must be some Reason. Now, without much of an introduction lets have a look at The Review of Boruto Episode 15.
The highlight of this episode ends up being another capture the flag battle between the student teams. Like usual the battle scene is short, but seeing Naruto and Mitsuki's teamwork is always a treat, and gets me excited to see what will happen once the Chunin Exams start for real.
Once Sumire's story is wrapped up the show moves onto a tease of what's to come. Another short scene of Toneri on his moon prison, as well as a quick appearance from Sasuke.
These scenes foreshadow a coming danger, which it quickly reveals to be Momoshiki and Kinshiki, the villains from the Boruto movie.
It appears Boruto will be retelling the events of that feature (a common practice as of late) which originally served as the introduction to these characters.
Who knows if they will follow the same story as the movie, but I am looking forward to the Chunin Exams, which should offer plenty of chances for more great action scenes.
It was good but not much more of an Interesting Episode. I, personally liked the moment when Sasuke returned and I'm used to the students competitions. So I will rate this Episode a 7 out of 10.
————— —————— —————- —————-
Now Coming to the Topic, Boruto Episode 16- 19 Spoilers.  ( Credits to @yonkouprod )
Boruto Episode 16 Spoilers : 
Title: Risk of Repeating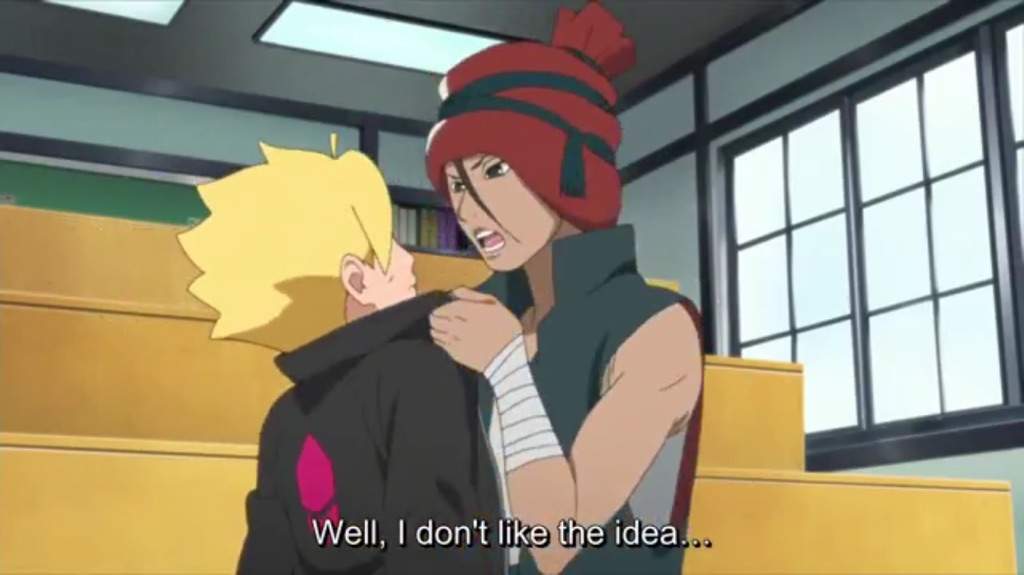 Synopsis for Boruto Episode 16 : The graduation exams, which show whether a student passes or fails are getting closer, so some of the students are facing problems. Denki is extremely bad at Ninjutsu.
Meanwhile, Iwabee is not too good at written problems either. For their sake, Boruto Uzumaki stays with them to help them study.
Boruto Episode 17 Spoilers :
Title: Run, Sarada!!
Synopsis for Boruto Episode 17 : Sarada is delivering to a girl in hospital a plush doll that she likes in the stead of her mother, Sakura.
However, Sarada accidentally left the bag of the plush doll on the tram, and chases after it panickedly.
Boruto Episode 18 Spoilers :
Title: A Day in the Uzumaki Household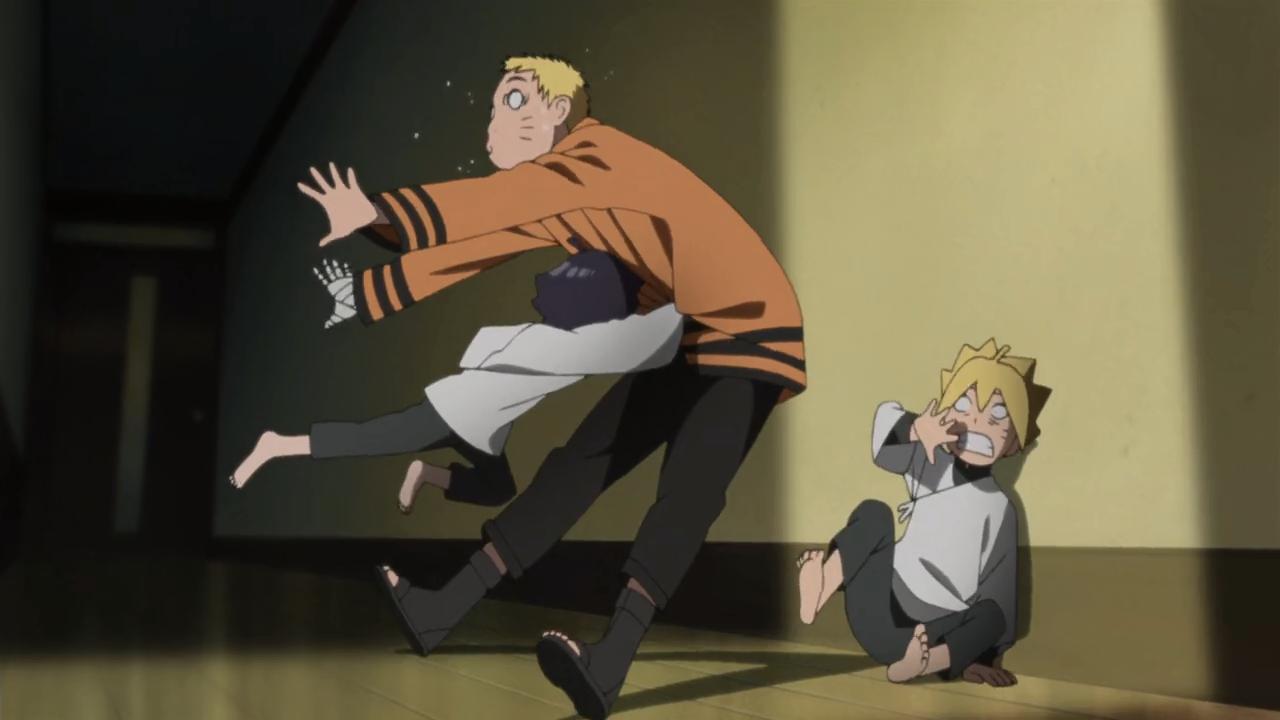 Synopsis for Boruto Episode 18 : After Boruto's sister, Himawari catches a cold, the Uzumaki household is in hysterics. There was that one time before too when things went really wrong due to Himawari, thought Boruto.
That was Boruto's father, Naruto's Hokage Inauguration Day. On that day, Himawari awakened her Byakugan, and both Boruto and Naruto thought they were going to die.
Boruto Episode 19 Spoilers : 
Title: Uchiha Sarada
Synopsis: Not Revealed. But It is Confirmed that Sasuke is going to Come back in this Episode. This Episode is also the Beginning episode for the New Arc.
(Note: The New Arc will Revolve around Sarada Uchiha and will be solving a lot more Mysteries)
That's all for Today. Thank you for Reading.
Like us on Facebook for More: OtakuVerse