Top 9 Anime With Overpowered Main Characters
When it comes to an Anime with Overpowered main Character who will say no to such an Anime. Sadly, There aren't much of Anime with Overpowered Main characters, In Most of the Anime' We watch , It's always a group beating the villain or a Duo beating a villain. But what If Our protagonist is too powerful, Powerful enough to kill our Villain easily. Almost every anime has one character who can destroy just about everyone and everything in his/her path. Literally, that facet plays a major role into "why most of us love anime".
We love the inconceivable displays of power. We wait in apprehension to witness battles beyond our wildest imaginations. Due to the formula of good overcoming evil it's not too extraordinary that one of the protagonists hold incredible power that is of the highest tier to take on the forces of evil.
Now, The Anime' in this List includes intelligence, power, and other talents. Some people that could've made here but didn't because I don't like some of them. This is in order of how powerful they are, how much they displayed it, and how dramatically cool they can be. Also, I'm not including some Anime' which are watched by almost everyone, I'm trying to go different in the same category.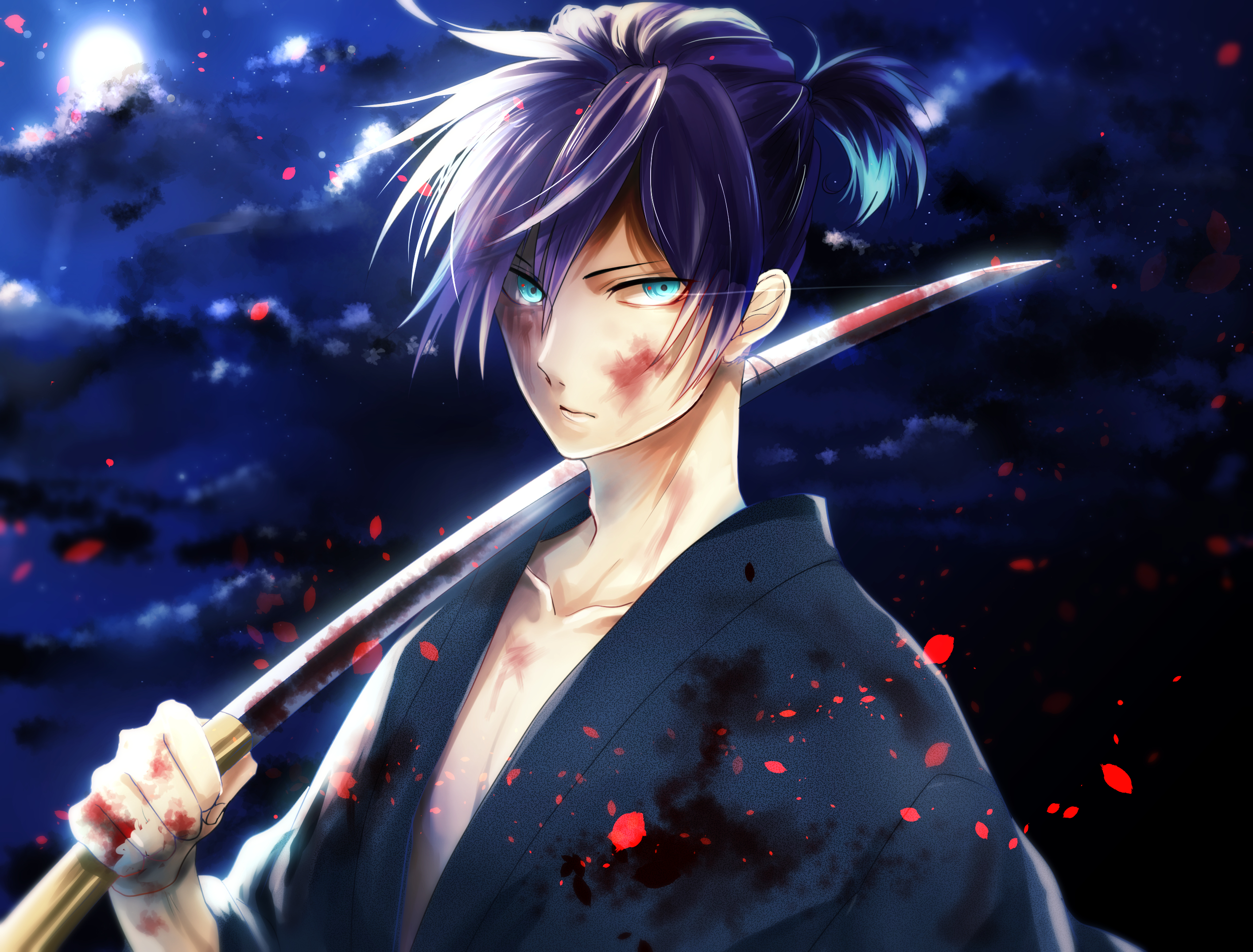 Now without anymore delays, Let us begin thee Anime With Overpowered Main Characters :
Riding the bus one day, Sakurakouji Sakura looks out the window to see people being burned alive with a blue fire and a boy her age who's unharmed and standing over the people. She comes back to the site the next day and there are no corpses or evidence of any kind of murder, just a small fire. She then goes to class to find there's a new transfer student, Oogami Rei, who looks exactly like the boy she saw before and wears a black glove only on his left hand.
Oogami is a Code Breaker, one who "does not exist". He is a seemingly cold-blooded killer who follows the principle of "an eye for an eye", to "use evil against evil". Convinced that killing is not right, Sakurakouji sets out to stop him and penetrate his icy heart.
Blade Dance of the Elementalers
Kamito Kazehaya is a normal guy in pretty much all respects except for the fact that he's the first man in 1,000 years to be able to form a contract with a spirit (which he "stole" from a shrine princess named Claire Rouge).
Additionally, the headmaster of the school, Greyworth, has summoned him to enroll and is forcing him to participate in a special tournament that will take place two months down the road. With Claire demanding that he become her contracted spirit, will Kamito even manage to survive the entire two months until the tournament takes place?
The Irregular at Magic High School
Mahouka Koukou no Rettousei follows the siblings, Tatsuya and Miyuki Shiba, who are enrolled in First High School. Upon taking the exam, the prodigious Miyuki is placed in the First Course, while Tatsuya is relegated to the Second Course. Though his practical test scores and status as a "Weed" show him to be magically inept, he possesses extraordinary technical knowledge, physical combat capabilities, and unique magic techniques—making Tatsuya the irregular at a magical high school.
World Break: Aria of Curse for a Holy Swordsman
The story begins six months prior to the major climax of the series during the opening ceremonies on the first day of the school year. After the ceremony is over, the main character, Moroha Haimura, meets a girl named Satsuki Ranjou who reveals that she was Moroha's little sister in a past life where Moroha was a heroic prince capable of slaying entire armies with his sword skills.
Soon afterwards he meets another girl, Shizuno Urushibara, who eventually reveals that she also knew Moroha in an entirely different past life where he was a dark lord capable of using destructive magic but saved her from a life of slavery. Can those whose minds live in both the present and the past truly reach a bright future? Delve into the complex world of Seiken Tsukai no World Break to find out!
The mysterious god welcomes Sora and Shiro to Disboard, a world where all forms of conflict—from petty squabbles to the fate of whole countries—are settled not through war, but by way of high-stake games.
This system works thanks to a fundamental rule wherein each party must wager something they deem to be of equal value to the other party's wager. In this strange land where the very idea of humanity is reduced to child's play, the indifferent genius gamer duo of Sora and Shiro have finally found a real reason to keep playing games: to unite the sixteen races of Disboard, defeat Tet, and become the gods of this new, gaming-is-everything world.
The Devil is a Part-Timer!
Striking fear into the hearts of mortals, the Demon Lord Satan begins to conquer the land of Ente Isla with his vast demon armies. However, while embarking on this brutal quest to take over the continent, his efforts are foiled by the hero Emilia, forcing Satan to make his swift retreat through a dimensional portal only to land in the human world. Along with his loyal general Alsiel, the demon finds himself stranded in modern-day Tokyo and vows to return and complete his subjugation of Ente Isla—that is, if they can find a way back!
Powerless in a world without magic, Satan assumes the guise of a human named Sadao Maou and begins working at MgRonald's—a local fast-food restaurant—to make ends meet. He soon realizes that his goal of conquering Ente Isla is just not enough as he grows determined to climb the corporate ladder and become the ruler of Earth, one satisfied customer at a time!
Whether it's part-time work, household chores, or simply trying to pay the rent on time, Hataraku Maou-sama! presents a hilarious view of the most mundane aspects of everyday life, all through the eyes of a hapless demon lord.
One day, the bright red sun stopped shining, causing the "Breakdown Phenomenon"—the destruction of Arata Kasuga's town and the disappearance of the people inhabiting it. All, however, is not yet lost; by utilizing the magical grimoire given to him by his childhood friend and cousin Hijiri Kasuga, Arata's world gets artificially reconstructed.
In order to investigate the phenomenon, Lilith Asami appears before Arata, whose artificial world suddenly disintegrates. He is given two choices: hand over the book, or die. However, Arata chooses the third option—enrolling in the top-secret magic school Royal Biblia Academy, where six other magical users await him. Together with Lilith, these six form the Trinity Seven, the elite of the school who each bolster their own power and skill.
With the ambition to save Hijiri and the help of his newfound friends, Arata stops at nothing to prevent the destruction of his beloved hometown and to bring his best friend back.
The Testament of Sister New Devil
Running into your new stepsister in the bathroom is not the best way to make a good first impression, which Basara Toujou learns the hard way. When his father suddenly brings home two beautiful girls and introduces them as his new siblings, he has no choice but to accept into his family the Naruse sisters: busty redhead Mio and petite silver-haired Maria.

But when these seemingly normal girls reveal themselves as demons—Mio the former Demon Lord's only daughter and Maria her trusted succubus servant—Basara is forced to reveal himself as a former member of a clan of "Heroes," sworn enemies of the demons. However, having begun to care for his new sisters, Basara instead decides to protect them with his powers and forms a master-servant contract with Mio to keep watch over her.
With the Heroes observing his every move and the constant threat of hostile demons, Basara has to do the impossible to protect his new family members. Moreover, the protector himself is hiding his own dark secret that still haunts him to this day…
https://youtu.be/HWn3WnyIdIo
Lux, a former prince of an empire named Arcadia that was overthrown via a rebellion five years earlier, accidentally trespasses in a female dormitory's bathing area, sees the kingdom's new princess Lisesharte naked, incurring her wrath. Lisesharte then challenges Lux to a Drag-Ride duel. Drag-Rides are ancient armored mechanical weapons that have been excavated from ruins all around the world.
Lux used to be called the strongest Drag-Knight, but now he's known as the "undefeated weakest" Drag-Knight because he will absolutely not attack in battle. After his duel with Lisesharte, Lux ends up attending the female-only academy that trains royals to be Drag-Knights.
There are also Anime' like Noragami, Rakudai Kishi no Cavalry and Parasyte: the Maxim. But I guess they are too popular so most of you've already watched 'em. If not, then give them a try.
Well, This is where it ends. Thanks for Reading! Watched these Anime' already? Don't worry, You can message me on Instagram and I will suggest you all Anime With Overpowered Main Characters ! Click here to visit my Instagram Account. Also, all of the above anime' are personally watched by me and suits perfectly for this genre.
Like us on Facebook for More: OtakuVerse