Howdy everyone, If you see any typos ignore them for now. Because I got an amazing news for each and every attack on titan fan out there. Yes, It is the official confirmation of Attack on Titan aka Shingeki no Kyojin's Season 3's release date. Yep, it will be airing in July 2018. The official poster for it is released now. The season is said to be 24 episodes long and it will almost unveil the mysteries that are coming to our mind.
Attack on Titan aka Shingeki no Kyojin will also get a movie in January 2018 and it is Officially confirmed by the studio itself around 40 minutes ago The "'Shingeki no Kyojin' Reading & Live Event Orchestra 'Attack Oto Taikan 2′" event in Tokyo announced it.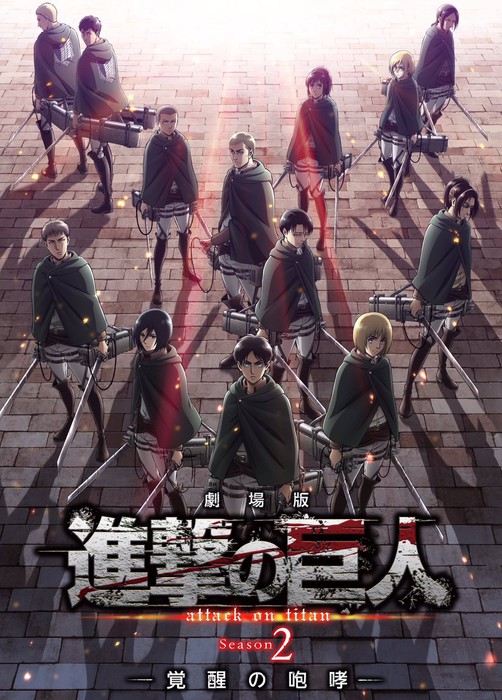 The film is subtitled "Kakusei no Hōkō" (The Roar of Awakening), and it is a compilation film of the show's second season. Original manga creator Hajime Isayama is drawing an illustration for a bonus item for film attendees. Here you go for the trailer:
The staff also revealed a key visual for the anime's third season, which features Kenny. The anime's official website confirms that most of the second season's staff and cast are returning for the third season, although the new season does not list Ayumi Yamada as a chief animation director.
The official Twitter account for the anime franchise also revealed on Sunday that there will be a new Attack on Titan-themed real escape game that will take place at five ZEPP concert halls in Japan starting in December and running through March.
Attack on Titan's Second Season Episode 12 revealed that the anime will air in 2018 and now it has been confirmed that the anime is going to air in July 2018.
Like, Tag and Share each and every Attack on Titan fan.
For more updates you can like us on facebook : OtakuVerse
Attack on Titan Synopsis:
Centuries ago, mankind was slaughtered to near extinction by monstrous humanoid creatures called titans, forcing humans to hide in fear behind enormous concentric walls. What makes these giants truly terrifying is that their taste for human flesh is not born out of hunger but what appears to be out of pleasure. To ensure their survival, the remnants of humanity began living within defensive barriers, resulting in one hundred years without a single titan encounter. However, that fragile calm is soon shattered when a colossal titan manages to breach the supposedly impregnable outer wall, reigniting the fight for survival against the man-eating abominations.
After witnessing a horrific personal loss at the hands of the invading creatures, Eren Yeager dedicates his life to their eradication by enlisting into the Survey Corps, an elite military unit that combats the merciless humanoids outside the protection of the walls. Based on Hajime Isayama's award-winning manga, Shingeki no Kyojin follows Eren, along with his adopted sister Mikasa Ackerman and his childhood friend Armin Arlert, as they join the brutal war against the titans and race to discover a way of defeating them before the last walls are breached.