Dragon Ball Super Spoilers : Goku Helps Out Hit!
Whats up guys, It's @TheSpoilerGuy and Like Always I'm here with the Official spoilers for episode 103 and 104 of Dragon Ball Super. All these Spoilers are 100% Legit and confirmed by TOEI Themselves. I know there are sites who post fake news and spoilers but believe me, I won't betray your trust. Now without anymore delays let me tell you the exclusive news: (Dragon Ball Super Spoilers Episode 103 and Episode 104)
(Note: Translation Credits goes to Herms98)
Dragon Ball Super Episode 103
Title: "Gohan, be ruthless! The showdown with Universe 10!!"
Release Date: August 13, 2017.
Synopsis: Battling against Universe 10! Gohan has prepared himself!!
Universe 10 is backed into a corner by the Universe 2 warriors, who have shown their true colors! The Gohan and rest of Universe 7 team likewise challenge Botamo as well as the Universe 10 Warriors to battle!!
Dragon Ball Super Episode 104
Title: A Faster-Than-Light Battle begins! Goku and Hit's Joint front!
Release Date: August 20, 107.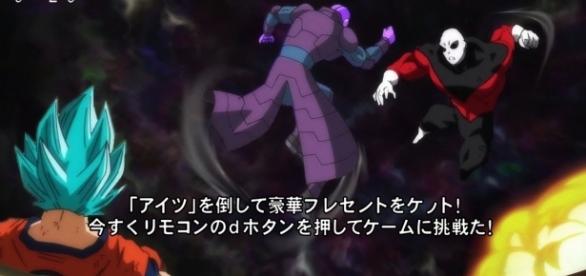 Synopsis: Goku and Hit form the Mightiest tag team?! Contestants continue to be eliminated in The Tournament of Power! In the middle of all this, Goku helps out Hit, who's at a disadvantage against Universe 11 …
Well, That's all for Today, Thanks for Reading!
Give me credits if you really gotta use the news! Anyways, don't forget to Bookmark the site for Anime Spoilers, Theories and a lot more.
Like us on Facebook for More: OtakuVerse
Dragon Ball Super is an ongoing Japanese anime television series produced by Toei Animation that began airing on July 5, 2015.[8] Its overall plot outline is written by Dragon Ball franchise creator Akira Toriyama, while the individual episodes are written by different screenwriters. It is also a manga series illustrated by Toyotarou, serialized in Shueisha's shōnen manga magazine V Jump. The anime is a sequel to Toriyama's original Dragon Ball manga and the Dragon Ball Z television series featuring the first new storyline in 18 years. It is broadcast on Sundays at 9:00 a.m. on Fuji TV.