Boruto: Naruto Next Generations Episode 6 Spoilers!
Boruto: Naruto Next Generations Episode 6 Spoilers!: So The Spoilers for Episode 6 is finally here, lets have a look at the spoilers Leave if you don't want to get Spoiled.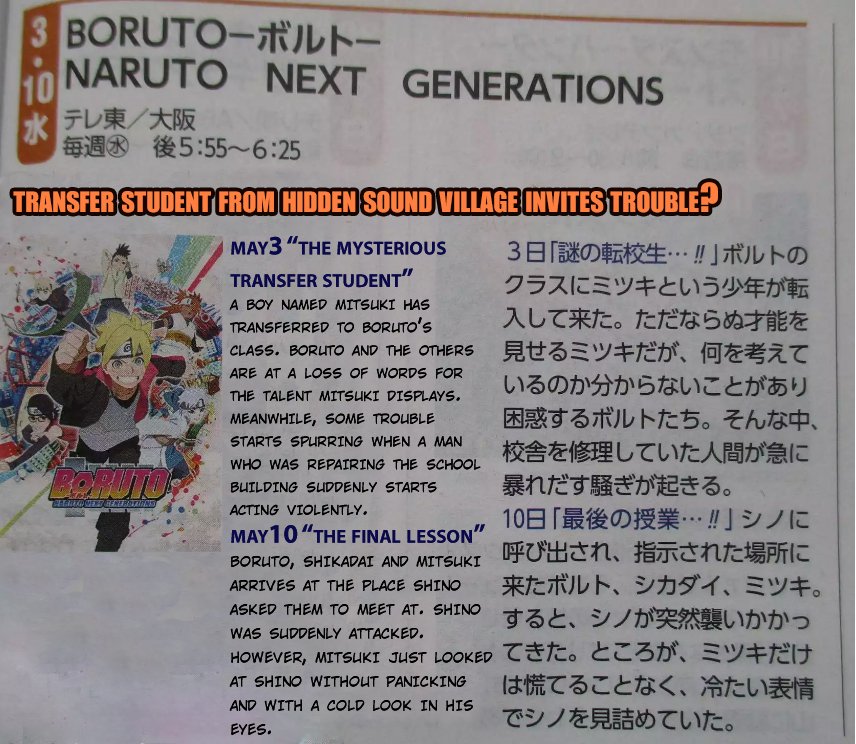 Episode 5 Review: Mitsuki is introduced as a ninja from the Hidden Sound Village, and he can use Wind style and Lightning style as well, and he is also mastered in escaping jutsus.
Except the Ninja who was taken down by Mitsuki at the start, two more get consumed by the evil chakra, as Boruto's Dojutsu is shown more than one times in this episode. It is also settled that Mitsuki is capable of noticing the chakra, as he makes an assertion to Boruto of "YOU CAN SEE IT?"
Boruto and team fought the construction worker who was balked and absorbed by the chakra after having to redo the work which was flawed by Mitsuki.
Then the evil chakra absorbs Shino as he was crimped by his will to give a favourable entrance to Mitsuki, and his students never respect him and instead carelessly ignored him.
So lets hope we are going to see More Action in Episode 6. Well, Check it out the Title and Synopsis of the Next Episode.
Episode Title: "The Final Lesson"




Release Date: 10 May 2017
Synopsis: Boruto, Shikadai and Mitsuki arrive at the place Shino asked them to meet at. Shino was suddenly attacked. However, Mitsuki just looked at Shino without panicking and with a cold look in his eyes." Episode 6 of "Boruto: Naruto Next Generations" is entitled "The Final Lesson" and is scheduled to air Wednesday, May 10.
Haven't Watched the 5th Episode yet!?
Click here to watch it on the Official Crunchyroll site.
Boruto: Naruto Next Generations  is a Japanese manga series written by Ukyō Kodachi and illustrated by Mikio Ikemoto. Serialized in Shueisha's shōnen manga magazine Weekly Shōnen Jump, Boruto is a spin-off and the sequel of Masashi Kishimoto's Naruto and follows the exploits of Naruto Uzumaki's son Boruto Uzumaki and his ninja team. An anime television series adaptation started airing on TV Tokyo on April 5, 2017.